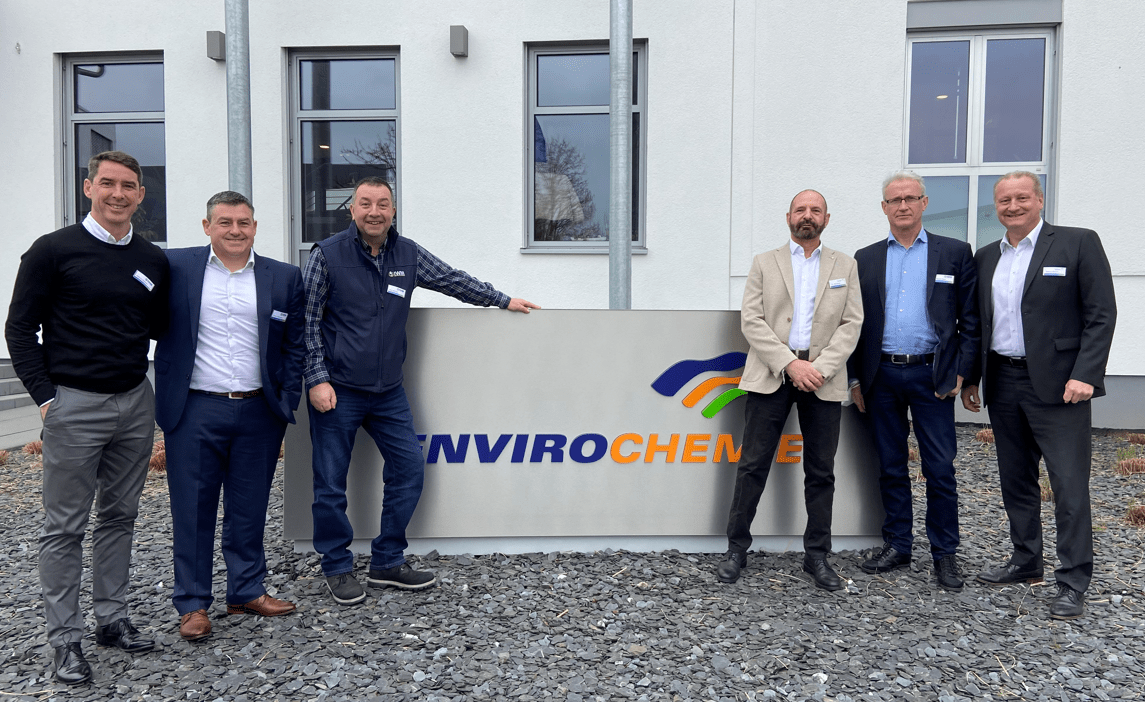 ---
IWM attend "The Annual Kick-Off Meeting" held by the EnviroWater Group in Rossdorf Germany
---
4 Apr 2022 15:42
Conor O' Donovan (Managing Director), Anthony Rainbow (General Manager), Brian McCleane (Wastewater Treatment Manager) and Seamus Sloan (Business Development Manager) all attended "The Annual Kick-Off Meeting" held by the EnviroWater Group in the EnviroChemie GmbH headquarters in Rossdorf from the 31st of March to April 1st.
Due to the growth of the EnviroWater Group, "The Annual Kick-Off Meeting" was held so that each company within the EnviroWater Group could pitch their entire services to the rest of the group, boost ideas and collaborate as a wider group, meaning that each member of the EnviroWater Group was building new relationships/networks, whilst all striving to do the best for the company.
Day 1 – March 31st.
The first thing on the agenda was COVID-19 testing for each person. Once the Covid testing had concluded this gave everyone a chance to get to know each other before the meeting commenced. Dr. Jörg Krause introduced and welcomed everyone to the EnviroChemie headquarters in Rossdorf German. Seamus Sloan, IWM's new Business Development Manager, and had a chance to speak about Greencastle Technology in the 'New Arrivals' segment. Seamus spoke about the acquisition of Greencastle Technology by IWM in early March, along with new products and services he had to offer. Conor O'Donovan, Managing Director of IWM, spoke about the importance of Legionella Control, the facts and figures relating to IWM's Legionella testing and control. Conor also spoke about the importance of the industry and the specific guidelines around Legionella in Ireland.
Many topics of interest came up for discussion on day one. Breakout sessions were created throughout the day to give each person a chance to raise an idea or thought around the topic that was up for discussion. Conor, Anthony, Brian, and Seamus all took away new valuable ideas and thoughts around the discussions from day one that they will bring into day two.
Day 2 April 1st
Day two also started with a round of covid testing to ensure everyone was negative. Dr Reinhard Huber from Skion Water was the keynote speaker on day 2. Again, like day one, day two was filled with presentations and speeches. Day two was shorter than day one but nonetheless was filled with lots of interesting topics ranging from Market Segment to Marketing. Breakout sessions were a big part of day two for Conor, Anthony, Brian, and Seamus to discuss new findings and potential ideas moving forward.
The Annual Kick-off meeting concluded around midday April 1st. IWM attendees thoroughly enjoyed the trip to Germany having gained new ideas, new thoughts and new friendships that will grow stronger within the EnviroWater Group for years to come. Everyone here at IWM is looking forward to the next EnviroWater Group meeting.